Commercial Electrician – Tenant Improvements
Vancouver Electricians and Electrical Contractors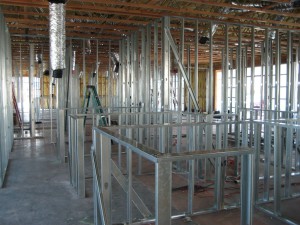 Bullseye Electric is experienced in the needs and requirements of commercial electrical applications. When performing Commercial Tenant Improvements in Vancouver, Commercial Contractors & Local Companies turn to Bullseye Electric's Professional knowledgeable staff for their commercial electric needs.
Whether adding a new dedicated circuit for that new copy machine, or relocating the entire office to a new office space, we can handle the electrical work and make it look like we were never there. Our certified Commercial Journeymen are licensed and will do the work in a quality manner with the least amount of interruption to your work environment. Your needs are important to us, and we understand that you need to get the job done fast and keep business rolling. We will get the job done.
Click the box on the right to be connected for more information.
Vancouver Area Commercial Electrical Services Include (But Are Not Limited To):
Commercial Tenant Improvement
Office Systems Wiring
New circuits for Copiers or Network Printers
Rewiring and Remodeling
Electric Circuit Testing
Computer and Telephone Cabling
Indoor and Outdoor Lighting Maintenance
Lighting and Energy Audits
Surge Protection Systems
Control Wiring
Dimming Systems
Point of Sales Cabling
Preventive Maintenance on Switchgear and Panels
Storm Damage Repairs
Transformer Maintenance & Repair
Installation of UPS/ Generator Systems
If you are looking for a Licensed Electrical Contractor and professional Electrician in the Vancouver WA, Camas WA, Washougal WA, Battleground WA, or Portland OR area, please call us today at 360-260-4814 or complete our online service request.