Hot Tub Wiring
Vancouver Area Hot Tub Wiring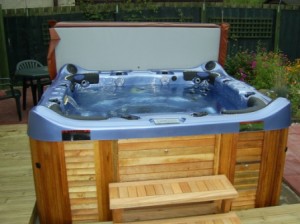 New Hot Tub Wiring?
Bullseye Electric will wire your hot tub correctly. Our certified electricians are experienced and trained in running a dedicated circuit straight from you electrical panel. We hook up hot tubs ranging from 120V 20A Costco models to 240V 60A special order Hot Tubs. We will verify that your hot tub is properly grounded and protected with a UL listed GFI device.
We can get your hot tub wired up and working the same day It is delivered, so you can be soaking in your new tub ASAP!
Tax Deduction?
For many people, a Hot Tub can be a prescribed therapy treatment for certain medical conditions, so see your doctor and/or tax advisor for information on insurance coverage and tax deductions.
Worried about your existing hot tub?
Bullseye Electric Vancouver can check your existing circuit for safety concerns and proper grounding. Although the cost of a hot tub inspection is minimal, the peace of mind that comes from knowing your friends and family are safe in the water is priceless.
If you are looking for a Licensed Electrical Contractor and professional Electrician in the Vancouver WA, Camas WA, Washougal WA, Battleground WA, or Portland OR area, please call us today at 360-260-4814 or complete our online service request.